Chelsea Collins, MSN, NP-C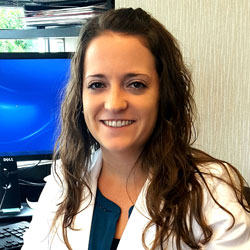 Chelsea Collins is a nurse practitioner specializing in cancer care. As a member of the Piedmont Cancer Institute team, she plays a pivotal role in the delivery of cancer treatments.
After receiving her bachelor's degree from University of Tennessee in Knoxville, Chelsea gained experience in Hematology and Oncology care before earning her master's degree. While studying at Emory, she also worked as a nurse in bone marrow transplantation.
Chelsea's hobbies include running, exploring new cities, and cheering for the Tennessee Volunteers football. She also enjoys spending time with family, friends, and her Miniature Australian Shepherd, Pepper.