Advanced Practice Providers
Laura Beal, MSN, NP-C
Laura grew up in Ohio and attended The Ohio State University where she graduated Summa Cum Laude with a BSN in Nursing. She started her nursing career working in the Medical Intensive Care Unit. While working as a registered nurse, she obtained a MSN specializing in Adult Nurse Practitioner from Ohio State and graduated with honors.
In 2001, Laura moved to Atlanta and worked as an Adult Nurse Practitioner in the field of cardiology. She enjoyed her work as a nurse practitioner but took a break from nursing practice while her children were young. In 2015 she joined Piedmont Cancer Institute as a registered nurse. Returning to patient care sparked Laura's drive to further her education and in 2018 she pursued a post-Master's certification with a specialization in Adult-Gerontology Primary Care Nurse Practitioner at Vanderbilt University. At Vanderbilt, she was inducted into the Sigma Theta Tau International Honor Society of Nursing. Upon completion of her studies in 2020, Laura transitioned into her current role as a nurse practitioner at Piedmont Cancer Institute. Laura is passionate about caring for Oncology patients and feels privileged to provide holistic care to her patients.
Laura is married with two children, Nicolas and Julia. She is enthusiastic about fitness having completed 10 full marathons including the Boston Marathon as well as 3 full Ironman triathlons. She loves cooking healthy recipes for her family and has a passion for travel.
Stephanie Braatz, MSN, NP-C, OCN
An Atlanta native, Stephanie attended nursing school at North Georgia College. Prior to joining Piedmont Cancer Institute, P.C. in 2003, she worked as a registered nurse in various oncology settings. In 2008, she earned a Master's of Science in Nursing from Kennesaw State University. At that point, she remained with the practice and transitioned her role from nurse to nurse practitioner. Stephanie is proud to be an Oncology Certified Nurse and is a member of the Oncology Nursing Society.
Stephanie is married and has two children, Addison and Will. She enjoys cooking and baking. She stays active and is an avid CrossFitter.
Jillian Brooks, MSN, DNP, FNP-C
Jillian was born and raised in Michigan. She earned her Bachelor of Science in Nursing degree at Bob Jones University in Greenville, South Carolina. Following graduation, she moved to Atlanta where she spent the next five years as an inpatient oncology nurse at Northside Forsyth Hospital before completing her Master of Science in Nursing specializing in Family Nurse Practitioner at the University of South Alabama. As a nurse practitioner, she furthered her oncology experience by splitting her time working at both an outpatient infusion center and on an inpatient unit. During this time, she continued her education at the University of South Alabama by pursuing her Doctor of Nursing Practice degree. Her doctoral study focused on early identification and intervention of malnutrition in cancer patients. Jillian is thrilled to be a part of the PCI team and feels honored to be able to provide compassionate, quality care to her community.
Outside of work, Jillian enjoys exploring new places, trying new coffee shops, running, and hiking with her family. She completed her first marathon in 2018 and looks forward to completing many more.
Anna Robinson, RN, MSN, ACNP-BC
Born and raised in Atlanta, Anna joined the team at Piedmont Cancer Institute, P.C. in 2010. After attending The Westminster Schools for 13 years, Anna went onto college at Vanderbilt University. She pursued a Bachelor's degree in art history, graduated summa cum laude, and was inducted into the Phi Beta Kappa honor society. She enrolled in Vanderbilt University School of Nursing and earned a Master of Science degree, specializing in Oncology. She is board certified as an Acute Care Nurse Practitioner. She feels honored to provide Hematology and Oncology care to the Atlanta community who raised her.
When she is not working, Anna enjoys visiting museums, reading and traveling.
Chelsea Collins, MSN, NP-C
Chelsea was raised in Franklin, Tennessee and earned her Bachelor of Science in Nursing at the University of Tennessee in Knoxville. After completing her undergraduate education, she began working in Hematology and Medical Oncology. She later went on to pursue a Master of Science in Nursing at Emory University. While earning her degree as an Adult-Gerontology Nurse Practitioner, she continued to work as a registered nurse in Bone Marrow Transplant. She is excited to continue providing Hematology and Oncology care as part of the Piedmont Cancer Institute team.
Chelsea's hobbies include running, exploring new cities, and cheering for the Tennessee Volunteers football. She also enjoys spending time with family, friends, and her Miniature Australian Shepherd, Pepper.
Nakia Gilliam, MSN, RN, FNP-C, OCN
Nakia is credentialed by the American Academy of Nurse Practitioners and is certified by the Oncology Nursing Society. Nakia was raised in San Diego, California and earned her Bachelor of Science in Nursing at California State University Dominguez Hills. She later pursued her Master of Science in Nursing from the Family Nurse Practitioner program at Azusa Pacific University.
She has spent the majority of her nursing career in Hematology and Oncology. In 2015 she was invited to author a chapter in the Oncology Nursing Society's book Chemotherapy and Biotherapy Case Studies. Shortly after completing graduate school she relocated to Georgia. She subsequently joined Piedmont Cancer Institute. She feels fortunate that she has been able to continue her career as a Nurse Practitioner caring for a population that she is passionate about.
Nakia enjoys spending time with family, live music, and cooking for family and friends. Being active, attention to diet and mental well-being are principal in her life. She feels strongly that it is important to care for the mind, body, and spirit of not only her but those that she cares for.
Scott Helms, PA-C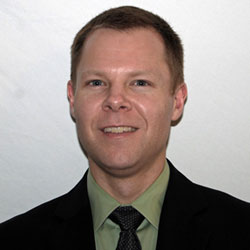 Scott is originally from Thomaston, Georgia, and moved to Atlanta in 1991 to attend undergraduate at Oglethorpe University. During college, he worked in the summers and on the weekends as an emergency room technician at Northside Hospital. After completing his bachelors of science in biology with a minor in psychology, he was accepted into Emory University's Physician Assistant Program where he graduated with a Masters of Medical Science degree in 1997. Upon graduation he worked for 13 years at Eagle's Landing Family Practice in McDonough, Georgia, followed by 4 years at Piedmont Physicians Group at Atlantic Station. He made the transition into Hematology/Oncology, joining Piedmont Cancer Institute, P.C., in November of 2015 and is very excited to be a part of the care team.
Scott has varied interests outside of work. He enjoys spending time with his spouse, running, hiking, playing the piano, reading and cooking. He has completed 3 half marathons in addition to a full marathon. He would one day like to participate in the Walt Disney World Marathon, running through all 4 parks, in addition to also one day returning back to Chattanooga, Tennessee, to finish training for a hang gliding license.
Kathryn Parr, MSN, NP-C
Katie was born and raised in Atlanta, attending St. Pius X Catholic High School. She pursued her undergraduate education at The University of Alabama, earning a Bachelor's of Science in Nursing and graduating with honors. She spent five years working in bone marrow transplant before earning her Master's Degree from the Family Nurse Practitioner program at The University of Alabama at Birmingham. She is excited to join the PCI family and continue to provide high-quality compassionate care to the patients we serve.
Katie loves spending time with her husband, family and friends. During her free time she enjoys yoga, tennis, hiking, and cheering on her hometown sports teams as well as the Alabama Crimson Tide.
Mary Ryan, NP-C
Born and raised in Ohio, Mary Ryan, Nurse Practitioner, is one of our advance practice providers at Piedmont Cancer Institute's Newnan office. Mary also lived in North Carolina prior to calling Georgia her forever home. Mary graduated from nursing school in 2004 and spent 9 years specializing in the acute and post-operative care of cardiovascular and pulmonary patients. She continued to advance her education obtaining a bachelor's degree from Indiana Wesleyan University in 2007 and a master's degree from the University of Cincinnati in 2013, with a specialty as an adult gerontology nurse practitioner. As an advanced practice provider Mary came to us with experience in dermatology and cardiology. She has now worked with us in medical oncology since 2015 and finds this to be the most rewarding specialty she has been in in the medical field. Mary's goal is to provide compassion, comfort, spiritual and emotional support to our patients. She believes in using a holistic approach for the care of our patients.
Mary loves the outdoors (hiking with her 2 dogs, fishing, and kayaking) as well as working out. She follows all the sports teams from Cincinnati, especially the Cincinnati Bearcats.
Julieta Valenzona, MSN, NP-C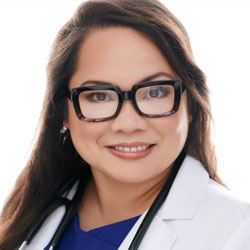 Julieta was born on the island of Cebu in the Philipines and lived there until she moved to New York with her family at the age of 12. She attended the College of William and Mary and earned a B.A. in Economics with plans to go to law school. The events associated with 9/11/2001 stimulated deep self-reflection and she changed her course.
Following her mother's footsteps, Julieta decided to pursue a nursing career. After graduating with a B.S.N. from Columbia University, she began working as a registered nurse. Her early days as a nurse were spent mostly in Women's Health. With 8 years of nursing experience, Julieta entered a Nurse Practitioner program. She earned a M.S.N. from the University of South Alabama in 2012 and began her career as a Nurse Practitioner. As a NP, she worked in primary care serving a primarily indigent population and interventional pain management before pursuing a specialty change to Hematology-Oncology in 2020.
Julieta is married and has two sons who swim and row competitively. She loves being a "sports mom" and takes an active role on their teams. When not working at Piedmont Cancer Institute or attending a swimming or rowing event, Julieta enjoys hiking, camping, spelunking, weightlifting, and yoga.
Amanda Woodward, FNP-C, OCN
Amanda is a local girl, born and raised in Fayetteville, Georgia. She earned her Bachelor of Science in Nursing at Kennesaw State University and immediately began working as a registered nurse in the specialty of oncology. While a registered nurse, Amanda pursued additional continuing education and earned the status of Oncology Certified Nurse. After 10 years of practicing as a registered nurse in various aspects of oncology, Amanda furthered her education. In 2019 she became a Certified Family Nurse Practitioner. Amanda's goal as a nurse practitioner was to continue working in hematology and oncology. She joined the team at Piedmont Cancer Institute in 2020, working primarily in the Newnan office.
Outside of her professional work, Amanda enjoys traveling and spending time on the lake. She is an avid sports fan and enjoys spending time with her family and friends.
Amy York, PA-C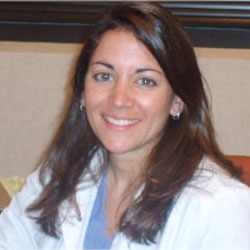 Amy is originally from Maine. She received her bachelor's degree in biology from Northeastern University in Boston, MA, where she lived for six years. She worked at Massachusetts General Hospital doing Phase 1 clinical research in oncology for one year before moving to Atlanta, GA. Amy attended Emory University's Physician Assistant Program graduating in 2006 with a Masters in Medical Science and shortly after she joined the Piedmont Cancer Institute, P.C. practice as their Physician Assistant in the Atlanta office.
Amy enjoys spending time with her husband and their two boxers, Izzy and Bo. She loves to cook, watch a good movie, run and almost anything outdoors.