PCI research team - Hustling to stay at the forefront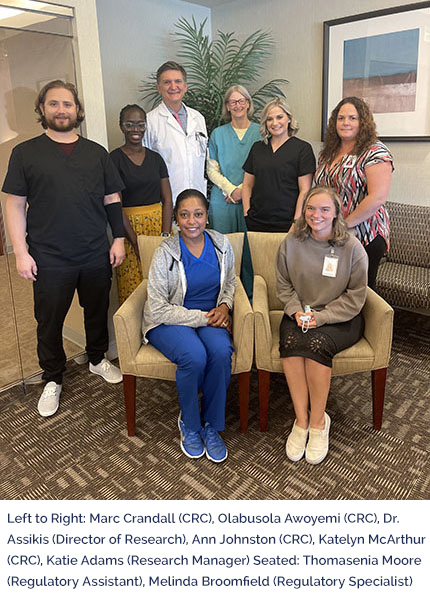 Piedmont Cancer Institute (PCI), well-known for high standards in patient care, has excelled in offering patients the latest clinical trials. The doctors and staff at PCI are engaged in 20 clinical trials and continue investigating a broad spectrum of cutting edge and treatment strategies. According to Dr. Rajni Sinha, a principal investigator at PCI, "we are staying at the forefront of cancer treatment by developing innovative strategies which gives us insight into cancer".
Piedmont Cancer Institute, with Dr. Trevor Feinstein as principal investigator, completed a clinical trial in extensive stage small cell lung cancer utilizing carboplatin, etoposide, atezolizumab with and without trilaciclib. The trial led to trilaciclib's FDA approval as the first and only myeloprotective therapy to decrease the incidence of chemotherapy induced myelosuppression.
Recently, Piedmont Cancer Institute presented a pooled analysis from 3 randomized trials utilizing trilaciclib in the Journal of Cancer Medicine, Cancer Med. 2021;00:1– 9. https://doi.org/10.1002/cam4.4089. Together with MD Anderson, Thomas Jefferson University, Hungary, and Spain, we demonstrated trilaciclib prior to chemotherapy reduced the need for supportive care.
Katie Adams PCI Research Manger stated "It's a great honor that we conduct clinical trials with such high standards and employ a research team that always goes above and beyond for our patients. I am proud that our research team at PCI, consisting of coordinators and regulatory, offering over 52 years of combined experience in managing clinical trials."
"It is PCI's mission to exceed conventional understanding and treatment methodologies of cancer by utilizing the most advanced, personalized therapies available - with compassionate care throughout" commented Research Director Dr. Vasily Assikis. Our research team takes great pride in exceeding the rigorous standards involved with clinical trials to bring the best care to our patients. For more information regarding clinical trials at PCI please contact 678-298-3235.