Patient Experiences
Sharing stories supports mental health and builds connections with others that have been touched by cancer. It can help you understand your own emotions and helps people understand what you're going through. We encourage our patients to share their experiences to encourage hope and to help reduce feelings of loneliness. Here are a few patient experiences.
William and Dr. Vasily Assikis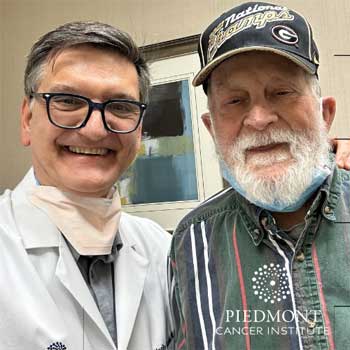 Dr. Assikis and Mr. Stancil met over 10 years ago when he was referred to PCI to talk about what to do next for lung cancer that spread to his brain. He had just completed focal radiation therapy to a small brain lesion.
"We talked about how bad prognosis was for a man with Stage IV lung cancer: back then average survival was one year, and he had cancer in the brain which is worse than usual and was an active smoker with COPD which also made things worse" says Assikis.
None of that fazed him. Whatever he was asked to do (tests, treatments) he did, always with a smile and a positive attitude. Everybody in the office knows him and loves him. As the years have gone by, he had his troubles but never gave up. He recently celebrated 10 years! living with Stage IV lung cancer ...and life goes on...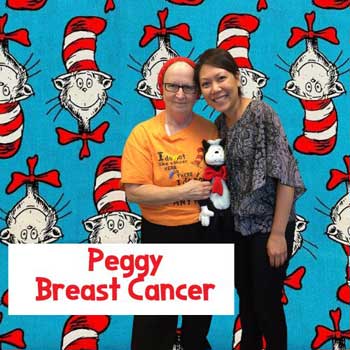 Peggy and Dr. Ha Tran
Peggy fights her breast cancer with a positive outlook. We can't control our circumstances, but we can control our responses to those circumstances. Keep a positive attitude. She recommends getting creative and include your support "people".
Create a calendar and hang it on your wall. I named mine Kick, Cancer's, A _ _. (K C A)
Start a prayer Journal: Each chemo treatment I chose a theme from the Bible or a song and entered it into my prayer journal. (Examples: Daniel 3:25, Nothing but the Blood, Victory in Jesus, each week I wrote about one of the twelve disciples)
If you are told the chemo will cause you to lose your hair, be proactive. Have a hair cutting pizza party.
Invite family or close friends to come. Choose one of them to have the honor of cutting your hair.
Randi and Dr. Rajni Sinha
At the beginning of 2022, Randi was living her life.
As the founder and President of Recruiting Specialists, Inc. the year was off to a great start for the staffing agency, which places top talent in organizations across the country.
Then in mid-March Randi began experiencing stomach issues, thinking maybe she had a stomach virus. But after showing no signs of improvement over the next few weeks, Randi's instincts told her to see the doctor. She was constantly in the bathroom and concerned as well because the color of her stool was pale.
"I knew I had to advocate for myself just like I do for the people I assist in my work life," she recalls thinking to herself. "I'm a tough, resilient, and take-no-prisoners woman."
During the appointment with her gastroenterologist, Randi was told she might have Pancreatic Enzyme insufficiency (EPI), a chronic condition creating the inability to digest certain nutrients, especially fat. After some tests, the doctor suggested a CT scan, and that subsequently revealed a 2.5c tumor at the head of her pancreas.
Now diagnosed with pancreatic cancer, things started moving very fast. Randi's search for an oncologist led her to PCI and Dr. Sinha, who she heard wonderful things about. In conjunction with oncological surgeon Dr. Andrew Page, they came up with a chemotherapy regimen plan to shrink the tumor before undergoing surgery to remove it and cure her of cancer. Dr. Sinha and Dr. Page also conferred to Randi how important it was that her cancer had been discovered early, and that showed no sign of spread.
Chemotherapy proved to be a roller coaster experience of side effects, stress, and perseverance for Randi. She gives a lot of credit to Dr. Sinha for helping her push through, calling her "as compassionate as she is brilliant," and that she couldn't have gotten through it without Dr. Sinha "and her incredible staff."
Following her eight rounds of chemo treatment, Randi spent the next six weeks trying to recover and get stronger. Then in early November, she underwent a successful modified Whipple Procedure that removed the tumor, the head of the pancreas, the first part of the small intestine (duodenum), and the gallbladder. Subsequent biopsy testing of 28 lymph nodes came back negative for each and every one of them, meaning Randi was cancer free. However, before being released from the hospital she suffered a setback involving her incision and needed a wound vac to help close it.
Despite her post-op ordeal and everything else she has been through during the journey, Randi considers herself blessed in numerous ways, but none more than to be alive. She'll be undergoing more precautionary rounds of chemotherapy treatment before taking some time to get back to normal again, and living her best life being cancer free nearly a year after her odyssey began.
The greatest piece of advice that Randi can give from her cancer experience is this: "Remember that it's not only important to know your own body and recognize any signs that something may be wrong but acting on them is equally as crucial. So, don't wait!"
Kutana and Dr. William Jonas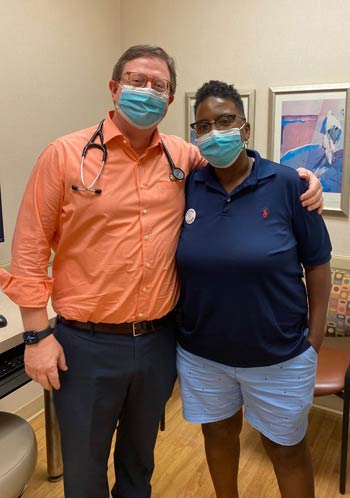 Kutana and Dr. Jonas met in 2010. She first saw Dr. Jonas after her diagnosis and then surgery to remove a carcinoid cancer from her right lung. A carcinoid tumor is a type of neuroendocrine tumor that grows from neuroendocrine cells found in organs throughout the body. They often grow very slowly.
Since that time, Kutana has been diagnosed with thyroid cancer and then carcinoid cancer in her liver. Dr. Jonas sent her to MD Anderson several times for treatments specific to her condition and stood by her all the way.
"He is the most compassionate and caring doctor I know. He cares about his patients, and it shows in the work that he does. There is so much I can say about him. He's a great person and doctor."
Christina and Dr. Jay Rhee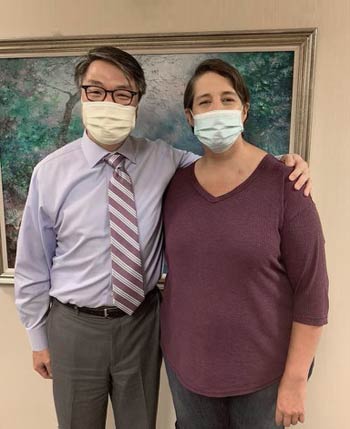 It's been over six years since Christina went for her regular checkup and a lump was found. A deep tissue lump about 3.5 cm in size. It was Breast Cancer - ER+ Her2 negative. What followed was a lumpectomy and six weeks of radiation. Additional problems began appearing, severe spinal pain, diverticulitis and more which required bone scans, CT scans and MRIs. Testing resulted in the discovery of additional cancers. Stage IV Cancer is an advanced cancer that requires and aggressive treatment, so began her journey.
Christina has been a patient of Dr. Rhee since 2018. She admires his ability to pivot with solutions as they partner together on treatment options. He communicates with other doctors and answers the many questions she has. One of the most challenging aspects with this diagnosis is navigating through all of the doctors and the testing! Christina is still fighting and doing well.
"It really does take a village" Christina says. Her advice to others is to make your caregivers part of your "village". Ask questions, a lot of questions. Speak up when you need something or don't understand something. And, most importantly, go live your life!