Dr. Sinha 2023 Castle Connolly Top Doctor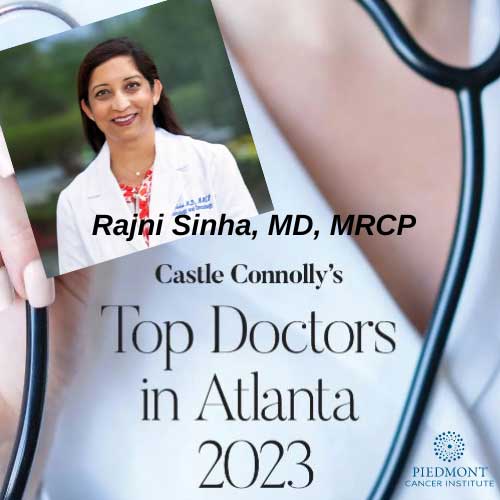 Rajni Sinha, MD, MRCP has been named Castle Connolly Top Doctor again in 2023. Castle Connolly Top Doctors are considered the best doctors in their area of specialty and expertise. For over 30 years patients have turned to CC as the official source of Top Doctors to find trusted, quality care. The list covers all 50 states and all major specialties, is based on nominations from doctors themselves. Physicians consider many criteria when nominating their fellow providers, the premise is simple - as a doctor, where would you go if you needed care?
Dr. Sinha has been with Piedmont Cancer Institute since 2016. She sees patients in our Atlanta office and our newly opened Sandy Springs location. She is frequent speaker at ASH, ASCO, Leukemia and Lymphoma Society conferences and peer educational programs. She also contributes her time and knowledge to patient and community requests to speak to support groups.
Dr. Sinha is an MD, but she is also a MRCP, which means she is a member of the Royal College of Physicians. To become a member, you must sit for a very difficult exam to assess a candidate's basic sciences and clinical skills, advanced hands-on knowledge of applied basic sciences and medical principles.