Dr. Feinstein Reports - Approved for NRG Oncology Research Studies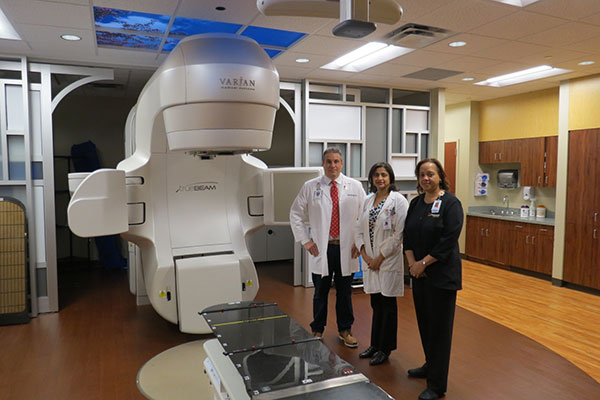 From left to right are Tevor Feinstein, MD, Medical Director of Oncology Research at Piedmont Fayette, Geetha Rao, MD, Medical Director of Radiation Oncology at Piedmont Fayette, and Allison Wellons, Research Nurse for Piedmont Fayette.
In a recent article from "The Citizen – Health Wize" Piedmont Cancer Institute's Dr. Trevor Feinstein was asked about the recent approval of Piedmont Fayette Hospital affiliation for NRG Oncology research studies. What this means is that Piedmont Fayette Hospital can now have eligible patients participate in clinical research trials. NRG Oncology is the combination of three organizations committed to research in the areas of breast, bowel cancer, radiation therapy, and gynecologic oncology.
"Earning this affiliation proves that Piedmont Fayette has the right infrastructure in place to provide the right data and help make significant contributions to these studies," said Trevor Feinstein, M.D., Medical Director of Oncology Research at Piedmont Fayette. Dr. Feinstein has work tirelessly to make sure that the programs necessary were available at Piedmont Fayette Hospital. Research clinical trials seek to answer important questions in cancer treatment. Areas like immunotherapy for rare cancers, reducing radiation therapy in treatment of some cancers, and the viability of chemotherapy to avoid surgery in some breast cancers is underway.
Patients are not automatically enrolled into clinical trials. They must meet the strict eligibility criteria, requirements, and all treatments in a clinical trial(s) is optional for patients. However, because of clinical trials, current patients may benefit from others participating in trials at different locations. Through efforts of our research team we can make strides in seeking better methods of treatments for our patients.
Dr. Feinstein is the recipient of numerous honors and awards. Dr. Feinstein is a Diplomate of the American Board of Medical Oncology and the American Board of Hematology. He holds memberships with the American Society of Clinical Oncology and Georgia Society of Clinical Oncology.
For more information about clinical trials please call 678-829-1060. Dr. Feinstein sees patients in in our Fayetteville clinic. To make an appointment with Dr. Feinstein or any of our physicians, please call 678-829-1060.